Wisconsin Local Food Purchase Assistance Program (WI LFPA)
The WI LFPA program aims to strengthen local and regional food systems, support Wisconsin farmers, and distribute fresh nutritious foods to underserved communities. Marbleseed is working with project partners Wisconsin DATCP, Wisconsin Farmers Union and the Wisconsin Food Hub Cooperative to provide program development, coordinate transportation and logistics, and procure food from local producers. For more information about the program, please see the WI LFPA Website.
Marbleseed contracts with farmers and will distribute grants ranging from $5,000-$25,000 to farmers​ via pre-season contracts based on farmer driven prices.
A total of $2.3 million dollars is available to farmers for food purchasing​ 80% of farmer grant funding is designated for BIPOC, beginning, and veteran farmers.
Marbleseed Technical Assistance
Marbleseed WI LFPA Specialists Tay Fatke or Nou Thao will provide technical assistance to WI LFPA producers throughout the duration of the program including: Food safety, Supply chains, Institutional and wholesale markets, Farm and business planning, Efficiencies, Meeting contract obligations.
2024 WI LFPA Applications are now closed!
Funding decisions and contract agreements for food purchases will be sent by December 15th, 2023. Contracts will be executed and made public in mid-January. Contracted farmers will have the opportunity to attend a meeting in La Crosse, Wisconsin on February 22, 2024.
WI LFPA Events 2023
Wisconsin's Local Food Purchase Assistance Program (WI LFPA) has announced a series of public events. These events have a goal of building connections between local food system and hunger relief network partners and providing education for farmers' success in expanding production for supplying food banks, pantries, and community food access efforts.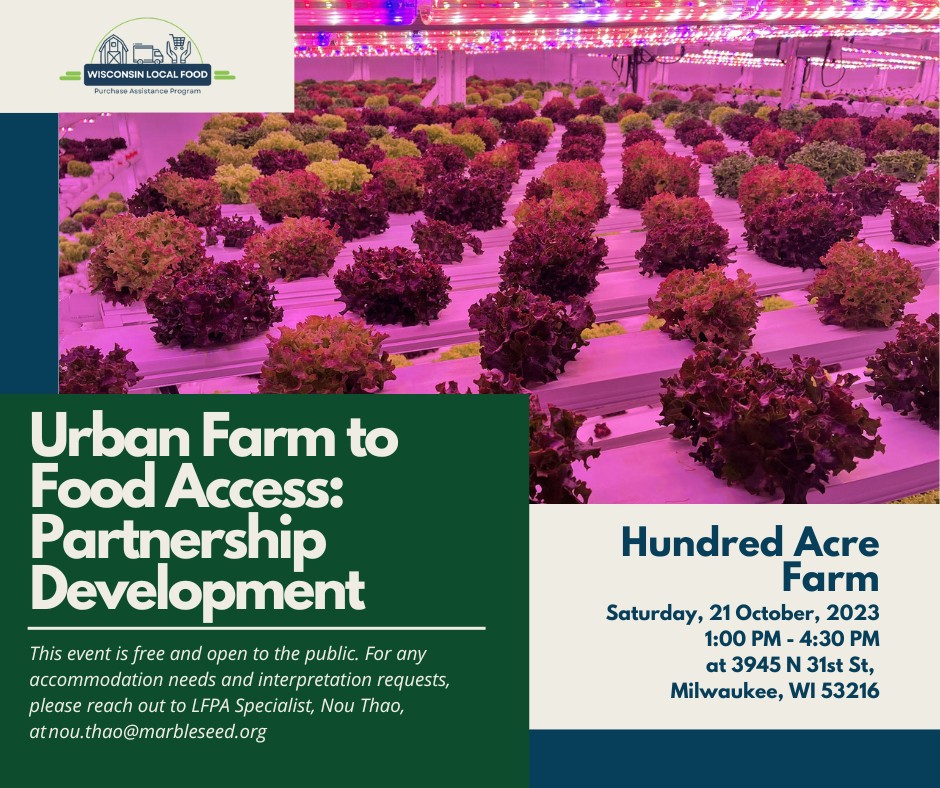 Urban Farm to Food Access: Partnership Development
Date: Saturday, October 21
Time: 1 - 4:30 p.m.
Location: Hundred Acre Farm, 3945 N 31st St, Milwaukee, WI 53216
Hundred Acre, a unique urban farm providing a rapid response solution to food insecurity in the heart of Milwaukee, partnered with the Wisconsin Local Food Purchase Assistance Program (WI LFPA) to host an afternoon of networking and resource sharing around Urban Farm to Food Access developments. As WI LFPA winds down its first year of programming, we celebrated Urban Farm to Food Access successes in Milwaukee County! Urban farmers play a critical role supplying food access programs through the WI LFPA and other activities. Urban agricultural businesses are varied operations with unique sets of opportunities and challenges. Urban farmers work to address community need and create solutions from land access to distribution.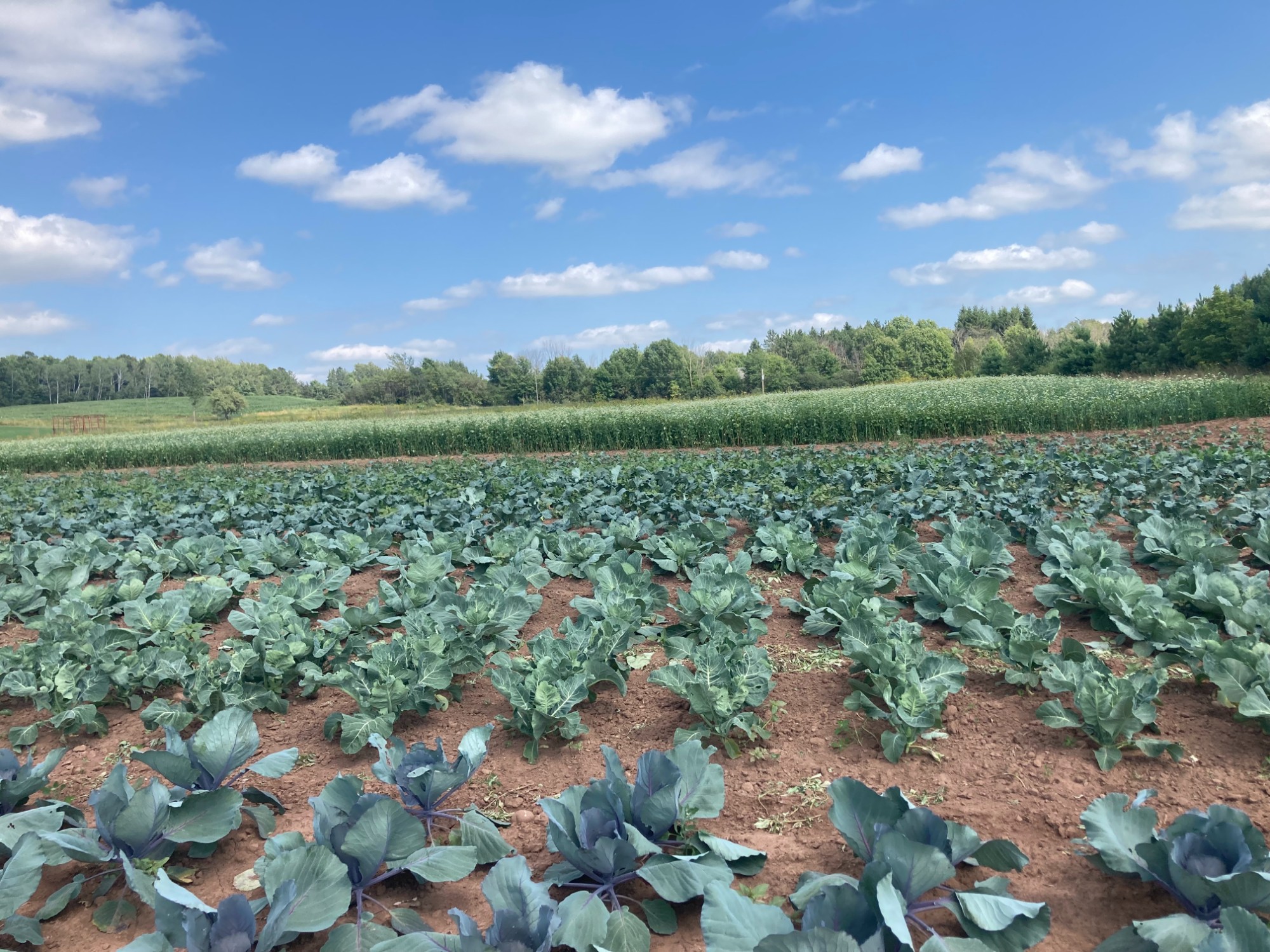 From Seed to Box: Learning the Ropes of Supplying for Farm to Food Access Programs
Date: October 6, 2023
Time: 10 a.m. - 4 p.m.
Location: Long Cheng Marketplace, 1804 South Lawe Street, Appleton, WI 54915
WI LFPA Program is offering a workshop for fruit and vegetable producers. The training will cover production planning, yield assessments, handling, packing, labeling, and transporting of products for farm to food access programs. Instructors Erich Furstenberg from Wisconsin Food Hub Cooperative, Shawn Bartholome from Chippewa Valley Produce, and Pa Thao from, Maiv Flower Farm & Pa Thao Consulting, will share from their own farm to food access supply chain experiences and on practices that lend well towards success in supplying for the WI LFPA. A portion of this workshop will be led in HMoob. Interpretation will be provided. Lunch will be available for all attendees free of charge. For any accommodation needs and interpretation requests, please reach out to LFPA Specialist, Nou Thao, at nou.thao@marbleseed.org Register here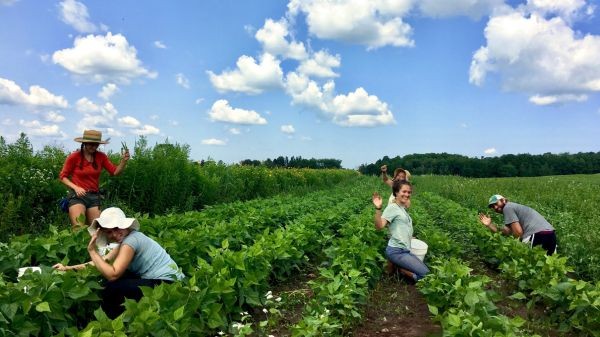 Hermit Creek Farm: Farm Tour & Wholesaling to Food Distribution Programs
Date: August 19, 2023
Time: 1 p.m. – 4 p.m.
Location: Hermit Creek: 65554 Spring Brook Rd, High Bridge, WI 54846, then caravan to other farm site during tour
WI LFPA Producers Landis and Steven Spickerman shared about the production and management of their two farm sites in northern Wisconsin. Attendees learned about how to better their soil fertility using animals, crop rotation, and season extension to maximize production to increase food access, toured the pack shed, learned about their food safety practices, and walked through the process of how a farm can become wholesale ready. Additionally, Landis and Steven shared on how H2A workers are integrated as a part of their farm.
Activate to Relate with WI LFPA at Philadelphia Community Farm
Date: August 12, 2023
Time: 9 a.m. – 5 p.m.
Location: 599 280th Street, Osceola, WI 54020
Philadelphia Community Farm and WI LFPA hosted a day of community building. Attendees learned about Philadelphia Community Farm's unique mission and connected with WI LFPA producers. WI LFPA producers networked with each other, shared resources, and discussed how to address food insecurity in northern Wisconsin.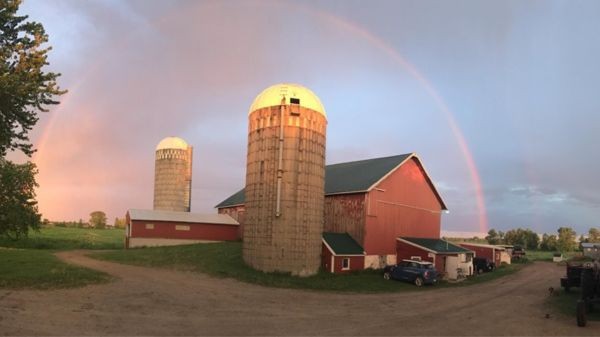 Diversified Enterprises for Community Food Access at Full Circle Community Farm
Date: July 20, 2023
Time: 2 p.m. - 5 p.m.
Location: W2407 Hofa Park Road, Seymour, WI, 54165
Full Circle Community Farm's mission is to provide the highest-quality organic, local food while creating a community-based farming model to bring vitality to their farm and community. During this event, attendees learned more about Full Circle Community Farm's diversified enterprise and its agricultural practices that sustain food production and address community food access needs. In addition, folks learned about reducing tillage in vegetable fields, post-harvest handling and demonstration, and they toured the pastured pig set-up, to see rotational cattle grazing.
Contact our WI LFPA Specialists with questions
tay.fatke@marbleseed.org
715-309-5918 Ext. 724
nou.thao@marbleseed.org
715-309-5918 Ext. 713