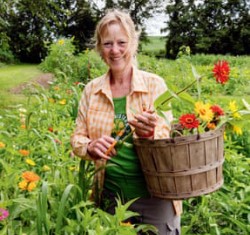 Dela Ends
President
Dela and her husband, Tony, have operated Scotch Hill Farm, a diverse family farm and CSA near Brodhead, Wisconsin, for over 20 years. Dela is a founding board member of the South Central chapter of the Wisconsin Farmers Union, helped launch the Collaborative Regional Alliance for Farmer Training, and served on the FairShare CSA Coalition board. Dela is also a founding member of South Central Wisconsin Women in Sustainable Agriculture, a core partner in the Soil Sisters farm tour and has hosted multiple In Her Boots workshops.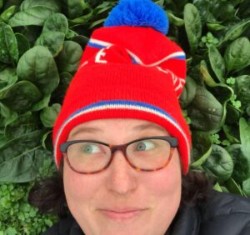 Katie Bishop

Along with her family, Katie owns and operates PrairiErth Farm, a 400+ acre organic vegetable and grain farm in Central Illinois. Katie oversees many facets of the vegetable operation along with her very talented staff. In addition, her passion lies in people development and helping others improve their leadership skills. Katie feels honored to serve on the Marbleseed board and promote the work this organization does to help others.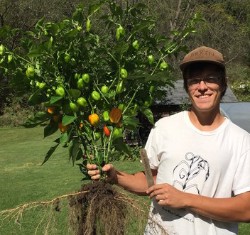 Dylan Bruce

Dylan grew up on a CSA farm in SW Wisconsin. After graduating from Occidental College in 2016 he worked as a research specialist in organic vegetables at UW-Madison until 2021, with a focus on vegetable variety trials and cover crop-based reduced tillage methods for vegetable production. Dylan founded Circadian Organics in 2018 with his wife, Skye. They grow small scale vegetable and prairie seed contracts for several regional and national companies, cut flowers, and produce for a 100 member CSA. Their farm incorporates several practices for reducing tillage - typically tilling every 3 years - including crimped rye, deep mulch, living mulch, and semi-permanent beds.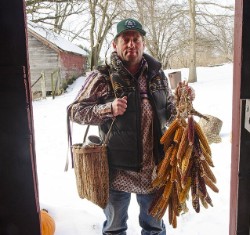 Dan Cornelius

Dan Cornelius, a member of the Oneida Nation of Wisconsin, is the Outreach Program Manager for the University of Wisconsin Law School's Great Lakes Indigenous Law Center and the UW-Madison College of Agriculture and Life Sciences where he works on the development of producer cooperatives, supply chain analysis, and legal and policy aspects of food and agriculture. Mr. Cornelius is also a farmer and livestock producer with extensive experience providing technical assistance to Native American farmers and ranchers.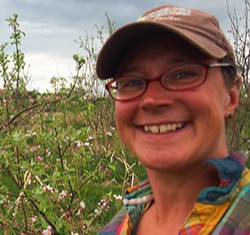 Clare Hintz

Dr. Clare Hintz runs Elsewhere Farm, a production permaculture farm near the south shore of Lake Superior in Herbster, Wisconsin. The solar-powered farm features perennial fruits and nuts interplanted on five acres, intensive market gardens, and rare-breed pigs and chickens, most marketed through winter and summer CSAs. Clare is also the editor of the Journal of Sustainability Education. Clare has a bachelor's degree in biology and writing, a master's in sustainable systems, and a Ph.D. in sustainability education with a focus on regenerative agriculture.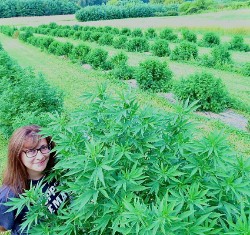 Kattia Jimenez

Kattia Jimenez is the founder and owner of Mount Horeb Hemp, a USDA certified organic hemp farm in south central Wisconsin. Kattia currently works at the Wisconsin Partnership Program (WPP). WPP is an endowment within the UW-Madison School of Medicine and Public Health. Kattia manages every step of her hemp farming operation, from seed selection to planting, pruning, harvesting, drying, and working with processors to create the highest quality full spectrum CBD products. She was recognized for this work as a recipient of the 2022 Amy Award, which honors women entrepreneurs in memory of Amy Gannon, and as the 2022 Emprendedora del Año (Entrepreneur of the Year) by the Wisconsin Latino Chamber of Commerce.   Kattia lives on her farm with her husband and their rescued pets.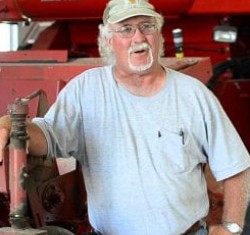 Charlie Johnson

Charlie is the 2013 Organic Farmer of the Year. He operates 2,400 acres of certified organic corn, oats, soybeans, and alfalfa with his brothers and a son near Madison, South Dakota. Johnson Farms also has a 200-head cow-calf operation. Charlie served on the board of the Northern Plains Sustainable Ag Society for six years, leading it for three. He is active in Dakota Rural Action, South Dakota Farmers Union, and local politics.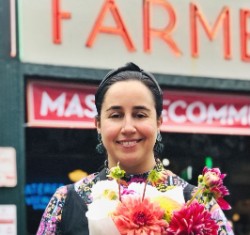 Eliana Pinilla

Eliana is a creative professional with 16 years of experience in the food industry. As a food scientist by trade, she has had the opportunity to put her expertise and leadership experience into good use at different ingenuity-demanding roles in consumer-packaged goods, private label products, food service, and food ingredient manufacturing through a divergent thinking approach to problem solving. She has had the opportunity to work in food systems early on in her career through the USAID/Winrock Farmer-to-Farmer program in El Salvador and Value-Added Workshops development and facilitation for Indigenous Communities in Guatemala with the Norman Borlaug Institute and USDA. Eliana is looking forward to bringing her skills from her previous work to support the strengthening of the region's food system through her current role at The Common Market as Director of Partnerships. She currently serves as a mentor for the Good Food Accelerator and is the Institutional Procurement working group coordinator for the Artisan Grain Collaborative.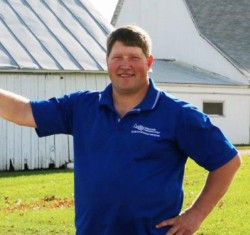 Darin Von Ruden

Darin, a third-generation dairy farmer, is president of the Wisconsin Farmers Union and serves on the board of the National Farmers Union. He and his wife, JoAnn, own Von Ruden Family Farm in Westby, Wisconsin, which they transitioned to organic in 2007. They are gradually transferring the farm's ownership to their son, Brett. Darin is a patron member of the Westby Cooperative Creamery, a founding member of Wisconsin Farmers Union Specialty Cheese, chairman of the Wisconsin Dairy Farmers Guild, and a founding member of the Upper Midwest Milk Producers Association.