Growing the Organic Movement Since 1989
The Marbleseed (formerly MOSES) Organic Farming Conference is widely known as the largest organic farming conference in the United States. Every year regenerative and organic farmers from a wide range of farm sizes, experiences, and backgrounds gather to learn the latest in organic farming methods, build community, and shape the future of the organic farming movement.
Whether you're certified organic, using organic practices on your regenerative farm, or considering the switch to organic, you'll find the people, partners, and skill-building opportunities to help your farm business thrive.
Marbleseed's 35th Organic Farming Conference
Save the date! Our 35th Organic Farming Conference will take place February 22-24, 2024. We cannot wait to see our community in February! Early Bird Registration opens December 5. Learn more about Marbleseed 2024 here.
Marbleseed's Organic Farming Conference features inspiring speakers, educational workshops, Organic Universities, and farmer panels. The Marbleseed Conference offers knowledge for all experiences from organic and sustainable farmers, homesteaders, food policy advocates and more. Dozens of transformative, skill-building workshops and roundtables covering business management, soil health, and production are crafted to advance resilient organic farms and regenerative food systems.
Interested in being a sponsor or exhibitor at the next Organic Farming Conference? Opportunities are announced in September. Learn how to become a sponsor or exhibitor.
Content submissions are now closed for the 2024 Marbleseed Conference. You are welcome to submit a proposal for a facilitated discussion, traditional presentation or interactive session for future years! Submit a content proposal here.
Get updates about the Organic Farming Conference and more when you sign up for our newsletter.
Organic Research Forum
Submissions for The Organic Research Forum are now closed. Check back in the fall of 2023 for 2024 submission guidelines.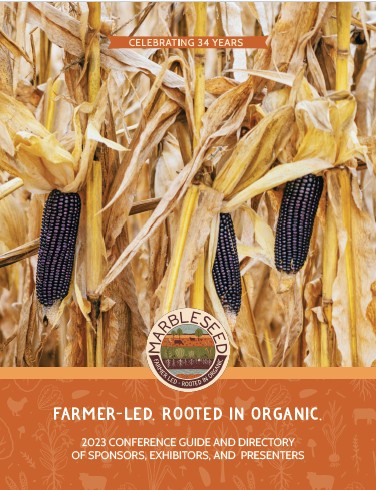 Geranium Sponsors
Agricultural Flaming Innovations
BioFlora
Blue Farm
Cashton Farm Supply Ltd
Copperhead Ag
Dramm Corporation
eOrganic
F.W. Cobs
Foundation Direct Seeds, LLC
Great Western Sales / Organic Gem
Henke Buffalo (Global Equipment Company, Inc.)
Johnny's Selected Seeds
Lakewinds Food Co-op
Michael Fields Agricultural Institute
Organic Farmers Agency for Relationship Marketing (OFARM)
People's Food Co-op
Scoular
Stonebridge Ltd
UW-Madison Center for Integrated Agricultural Systems
Welter Seed and Honey Company
Wisconsin Department of Agriculture, Trade and Consumer Protection
Daisy Sponsors
All of Us Research Program - UW Madison
All Star Trading
Co-op Partners Warehouse
Cutler Fence
Dr. Bronner's
Gallagher North America
High Mowing Organic Seeds
Minnesota Crop Improvement Association/ MCIA
Minnesota Farmers Union
Mythic Farm
Nature Safe Organic Fertilizers
NICS
Osborne Quality Seeds
Ozark Organics LLC
Quality Roasting LLC
Real Organic Project
Ryan Evan's Flowers
Shining Hills Farm and Gardens
Twin Cities Co-op Partners
Vermont Compost Company
Whole Foods Co-op